Without a doubt, the Filofax Finsbury is my first real purchase many many years ago (I think it would have been around 2013 now) after the pocket sized Domino from around 2005. The start of this love affair knew no boundaries. The purple Finsbury was just as beautiful in real life as it was on the website. I call him Finn or Finni.
I added a few small embellishments to the inside to make it uniquely mine, and of course, my business card in the clear pocket. Unfortunately the slots in the inside did not really serve any functional purpose as I was not one to put my personal credit cards here. The front zip kept my receipts and what nots quite safe if I was out and about and I certainly had no worries that anything would be falling out.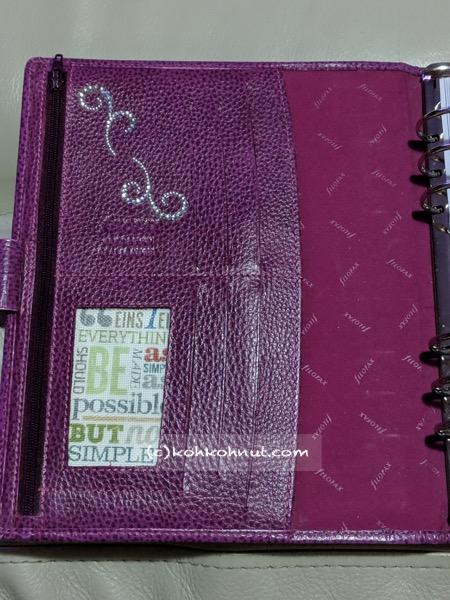 There are two pen slots and it was perfect for the second back up pen in case the first one ran out. (I am one of those old school fountain pen users and so it's quite important not to lose them in transit.)
The Finsbury lay completely flat which is something I loved as well. Nothing worse that trying to write in something that tries to spring up against gravity.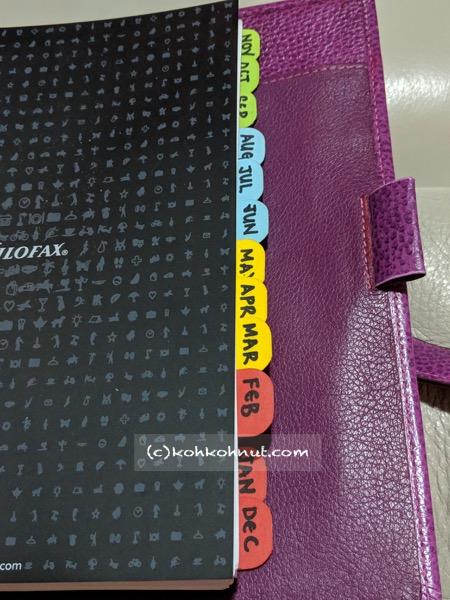 I made the month-tabs myself. Just got 6 cardstock from Officeworks and cut it in half to make an A5 size. Then I inserted the tabs with the first 3 letters of each month so I knew what I had going. Every time a month is finished, I move the tab to the back of the Finsbury. I am going for functional, not perfection. In case you are wondering why January is at the back of the file, well the inserts are on top of everything (under the black Filofax cover), so there is no need to have a tab tell me what is obvious to me.
The Finsbury hosts a few basic sections:
To-do list
100-day Goal Challenge
Month overview
Week view (in columns)
Habit tracker
Notes (blank page)
I print out my own inserts because I have found that I change my mind about what works for me with alarming regularity. Probably me going, "ooh, shiny" and getting distracted. But the truth is that my life needs and wants have changed over time so I move with the times.
Happy Wednesday, everyone!